Serenata scumbinata (lyrics: Libero Bovio & music: Vincenzo Valente)
FRANCESCO DADDI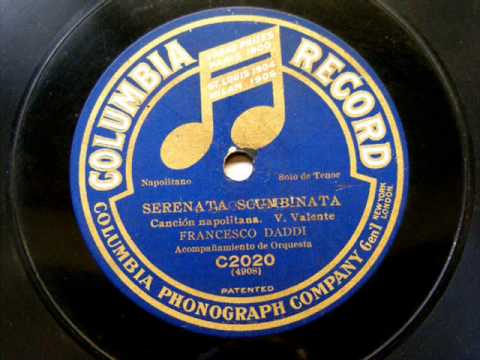 Born in Naples, Daddi was trained at the Naples Conservatory and made his stage début at Milan in 1891. The following year at the Dal Verme he sang Beppe in the world première of ''Pagliacci'', and this was also his role in his single season at Covent Garden in 1900. He sang in the Rome première of Pietro Mascagni's ''Le maschere'' in 1901. Having become one of Italy's leading comprimario tenors, he emigrated to the USA in 1907, singing with the Manhattan Company usually in small parts but also Corentin in ''Dinorah'' with Tetrazzini. From 1911 to 1920 he appeared regularly in Chicago, where he enjoyed considerable success in comic bass roles such as Dr Bartolo in "'Il barbiere di Siviglia''. His many recordings of Neapolitan songs are graced by an agreeable lyric voice and an idiomatic sense of style and charm.
from http://forgottenoperasingers.blogspot.co.at/2011/10/francesco-daddi-naples-1864-chicago.html
"Serenata scumbinata" was published in 1912 by the Poliphon publishing house, which was a Neapolitan branch of the German "Musikwerke" of Leipzig. Under the management of poet Ferdinando Russo, Poliphon boasted the collaboration of the greatest names in the genre of Neapolitan folk music. It was already closed in 1914, when the impending advent of World War I started to be felt in Italy. Unfortunately I have not been able to find and provide the lyrics and translation of this song. Help is always welcome!
Ammore è femmena (1907) (lyrics: E. A. Mario & music: Evemero Nardella)
GIUSEPPE ANSELMI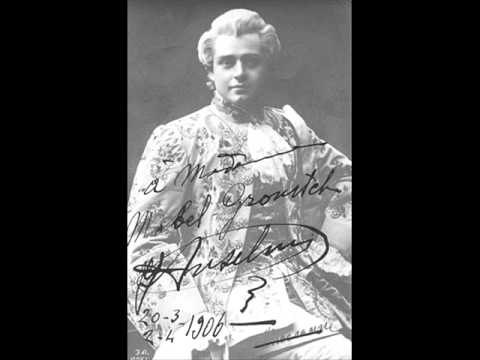 Evemero Nardella (1878–1950) was in Foggia, he studied composition at the conservatory in Naples under Camillo De Nardis. In 1913 Evemero Nardella composed the national anthem for Albania, which had been commissioned by the short-term regency of Wilhelm von Wied, which was to last for only six months. Immediately afterwards, the hymn was replaced by the one which still is played today. He was also a conductor and set to music some of the most beautiful Neapolitan poems of his times. Among his most famous songs are: Surdate and Chiove(Libero Bovio), miez' 'o ggrano (Eduardo Nicolardi, Matenata (Ernesto Murolo), or Che t'aggià a dì (Corrado della Gatta). Although Anselmi was born in Nicolosi / Sicily, he has all it takes to perform these songs right: a well trained and flexible voice, charm, vocal intelligence, nuance and refined taste. Apart from a very appealing timbre he was not a perfect singer.
In this recording, too, one notes a certain huskiness, here and there a lack of appoggio and slight intonation issues. But what he offers in this recording is one of the best examples for the "canzone sussurata" like Riccardo Muti wanted the neapolitan songs to sound like. What a nuanced and imaginative singer, how he does the little rallentandi and then suddenly speeds up the tempo again, his singing is beautifully refrained and he has some delicately spun notes. Yet, it is all natural and intimate – no calculated effects, no eggagerations, no "vocal ego trip": just lending his voice to this beautiful song and letting it speak for itself.
An enchanting recording.
Mme vuó' dá 'a 'ntennere,
mm"o vvuó' fá credere
ca mme vuó' troppo bene…
Ca, nun vedènnome,
t"a passe a chiagnere,
te siente dint"e ppene!
Ma è maje possibile
ch'esce na lacrema
'a dint'a st'uocchie, oje né'?
Tu 'o ssaje ca 'e llacreme,
st'uocchie t"e sciupano…
tu 'o ssaje cchiù meglio 'e me…
Ammore 'e femmena,
è nu ricamo 'e chiacchiere:
parole ca lusingano,
prumesse ca se scordano…
E' na buscía,
'mpastata 'e mèle e zùccaro…
Na fantasía,
ca vène e se ne va…
Quanta miracule
pò fá na femmena,
si 'a lassa 'o 'nnammurato…
Ma nu remmedio
s"o trova subbeto:
se calma e penza a n'ato!
Comme s'attaccano,
se pònno sciogliere
tutt"e ccatene, oje né':
E' accussí facile
a cagná maschera
comme faje tu cu me!…
Ammore 'e femmena,
Tu mo, sentènnome,
te miette a ridere…
mme faje stu pizzo a riso…
Si' amara e sprùceta,
si' doce e affabile:
Ll'Inferno e 'o Paraviso…
E tu saje ridere
pe' mme fá dicere
chello ca dice tu…
Ma nun 'o perdere
stu tiempo, è inutile:
Io nun te credo cchiù!
—
You want to make me believe that you love me so much,
that you keep weeping, that you feel bad when you don't see me,
Could it be that there is a tear in your eye?
You know better than me that these tears are wasted on your eyes.

A woman's love is a fine mesh of chatters and lies:
flattering words – forgotten promises.
It´s a lie – sweetened by honey and sugar.
A fantasy which comes and goes…

How many wonders a woman is able to perform 
when her beloved leaves her.
But then a remedy is quickly found: 
she calms down and thinks of a new love.
As fast as the chains of live are applied, they will loosen again, too.
It´s so easy to change a mask like you do with me…

A woman's love…

And now, as you are listening to me,
you start to laugh. You are making fun of me.
So bitter and fickle-
so sweet and lovable at the same time:
paradise and hell.
And you know how to laugh
in order to make me say what you say…
But now do not waste more time:
I don´t believe you anymore!

A woman's love…