Joseph Calleja  is currently singing a run of Lucias at the Met. Although he has been adding Faust and Adorno (going also for Werther in the future), and more recently Riccardo/"Ballo", I would still consider him most of all a good tenor for Donizetti. (What a pity he does not sing Ernesto, also Nemorino or als Bellini´s Sonnambula) When in form, Edgardo is probably his finest role. As much as an ascolto comparato, this could actually also be called "voci parallele". These two voices have a lot in common. A lyric voice, more on the light side, the natural, quick vibrato – which in Carpi´s days was pretty much a given thing, while nowadays it is among the first things, teachers  will seek to eliminate. More or less the same vocal size, an easy flowing, appealing sound with an easy high register with some occasional "bleat" in the passaggio area.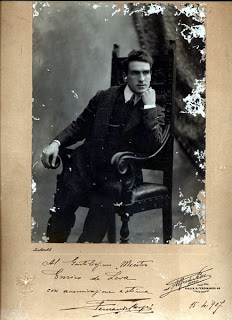 Fernando Carpi is hardly remembered today, although he had an extensive and international career singing with most of the big names (which brought him as far as Venezuela and Russia). Carpi made his début at Lecce in 1898 in Gounod's ''Faust'' and was immediately offered engagements at different Italian stages. He travelled widely in the following years. He was engaged at Covent Garden for the autumn season of 1906, singing for 'Rigoletto'', ''Tosca'' and ''Traviata'' with Melba and Sammarco. He was the Alfredo on the occasion of Tetrazzini's début in 1907, and he was a great favourite at the San Carlo in Naples and especially at the Costanzi in Rome (he sang there Walther von Stolzing in 1907, Don Pasquale/Ernesto with Kaschmann, De Luca and Storchio in 1910). After two years in Russia he returned to Italy, but also appeared throughout Europe, for example as Enzo (Gioconda) at Monte Carlo with Ruffo. In 1914 he sang with big success at the Teatro Regio di Parma in Barbiere (with Stracciari, Pareto) and at the Comunale di Trieste in Traviata (with Storchio). 1916 brought him to Paris, where he sang Ernesto at the Opéra withed Hidalgo and Danise and to the Teatro alla Scala in "Barbiere di Siviglia" (with Ruffo, de Hidalgo and De Angelis). In 1916 he also arrived at the Met: he made his debut in ''Traviata'' opposite Frida Hempel, in the following year Tonio in Donizetti's ''La Fille du Regiment'', in 1918 he sang Bohème, Butterfly on different Met tournées. and Alfredo He also appeared in Chicago in 1918 and made his final operatic appearance in Venice as Elvino in ''Sonnambula'' in 1922. He retired in 1923 and taught singing in Prague, where among his students were Zinka Milanov, Susanne Danco and Gwyneth Jones, later he also taught in Ginevra (Ernst Haefliger) and in Milan (Alfredo Kraus in 1954).
See http://forgottenoperasingers.blogspot.co.at/2011/08/fernando-carpi-1876-1959_27.html
Tombe degli avi miei,
l'ultimo avanzo
d'una stirpe infelice
deh! raccogliete voi. Cessò dell'ira
il breve foco… Sul nemico acciaro
abbandonar mi vo'. Per me la vita
è orrendo peso!…
L'universo intero
è un deserto per me senza Lucia!…
Di faci tuttavia
splende il castello! Ah! Scarsa
fu la notte al tripudio!
Ingrata donna!
Mentre io me struggo in disperato
pianto,
tu ridi, esulti accanto
al felice consorte!
Tu delle gioie in seno,
Tu delle gioie in seno,
Io della morte!
Io della morte!
Fra poco a me ricovero
darà negletto avello…
Una pietosa lagrima
non scenderà su quello!
Ah! Fin degli estinti, ahi, misero!
Manca il conforto a me!
Tu pur, tu pur dimentica
quel marmo dispregiato:
mai non passarvi, o barbara,
del tuo consorte a lato… Ah!
Rispetta almen le ceneri
di chi moria per te.
Rispetta almen le ceneri
di chi moria per te.
Mai non passarvi, to lo dimentica,
rispetta almeno chi muore per te.
Mai non passarvi, to lo dimentica,
rispetta almeno chi muore,
chi muore per te.
O barbara, rispetta almen le ceneri…
Ah! di chi moria
di chi moria per te.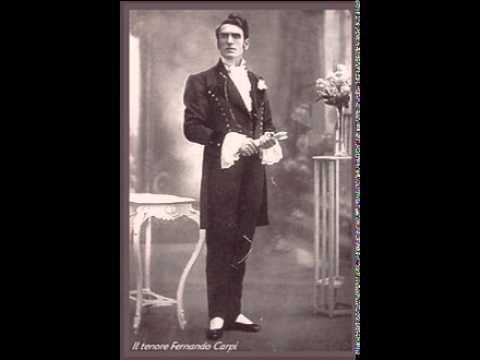 Carpi had a voice which was light, but not lightweight. It still had a full and compact sound and a natural cutting edge, allowing him so stray away from his natural repertory now and then (Enzo, Stolzing, Turiddu – he even seems to have recorded an Otello duet), without much vocal damage. The voice must have carried easily and beautifully in the theatre. His calling cards were especially Count Almaviva (Barbiere), Ernesto in Don Pasquale, Elvino and Alfredo. Unfortunately, we only have "Fra poco a me ricovero" by Carpi and not "Tu che a Dio". This ascolto comparato shows both the virtues of the "old school" and the belcanto tradition in a tenor, who was far from a "star" during his days, but it also shows Calleja´s limitations – although he was trained in the belcanto tradition: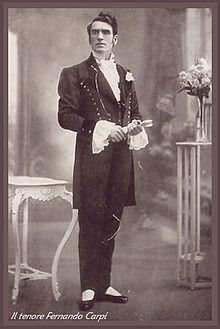 The phrasing is limited, little imagination, little colours, little vocal charisma, just straight out singing – but among today´s tenors I find that he is one of the few who has a vocal line – though then again, it is often distorted by short breaths. The lower middle range is not his most efficient weapon, but the ease of his high middle range and his high register in general is a joy. Then you start to listen closely: where Carpi´s phrasing is expansive and delightful ("aaaah rispetta almen le ceneri" or the fional "peeeer tee"), where Carpi does some ciseling (never exaggerated) Calleja sounds no more than correct – too correct. Where Calleja takes a breath at "Ah! fin  / degli estinti ahi misero" Carpi has no problem whatsoever. Where Calleja sounds a bit laboured in "Mai non passarvi / tu lo dimentica / rispetta almeno / chi muore per te." Carpi is elegant and flexible making Calleja at times sound almost like a schoolboy… At times he has trouble keeping the sound really "collected", at times, there intrudes a certain huskyness and the sound becomes a bit "impure".
So one of today´s foremost lyric tenors set against a tenor, who in his time did have a good career, but certainly was no big player. Just one of many lyric tenors. It was the vocal standards which were all different. Similar voices, similar repertory, similar training – yet what a difference.