Anna Netrebko | Manon Lescaut
David Pershall | Lescaut, ihr Bruder, Sergeant
Marcello Giordani | Chevalier René Des Grieux
Wolfgang Bankl | Geronte
Carlos Osuna | Edmondo
Il Hong | Wirt
Carlos Osuna | Tanzmeister
Juliette Mars | Musiker
Marcus Pelz | Sergeant
Carlos Osuna | Laternenanzünder
Wolfgang Bankl | Kommandant eines Kriegsschiffes
Dirigent: Marco Armiliato
How right Toscanini was to pay special attention to the casting of crucial comprimario roles. A bad Edmondo can ruin good parts of the first act, which he both opens and closes. And what a fine Edmondo Saimir Pirgu was, for example, in the premiere run of this production in 2005 before he started to undertake roles two sizes large for him. Carlos Osuna´s singing as Edmondo is as bad as his maestro di ballo and the lampionaio. A grainy, swollen, guttural voice with a forced top. But his phrase as the ballet master proved to be this evening´s motto: "Vi scongiuro… A TEMPO!"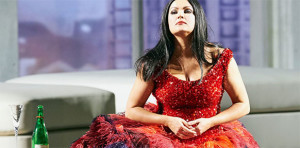 That concerns mainly Anna Netrebko, who is not able to stay "a tempo" even for two beats. Whenever she starts a new phrase, after two or three beats she starts to stay behind the conductor and gets slower and slower. Armiliato then slows down in order to catch up, she slows down even more and the whole thing becomes just unbearable. She does not do this intentionally, but because of the heaviness and sluggishness of her voice and because of the lack of real musicality and musical discipline. The part of Manon mercilessly exposes her weak lower register. Her first phrases "Manon Lescaut mi chiamo" and "domani all´alba io parto, un chiostro m´attende" and "il mio fato si chiama voler del padre mio" really sound like coming out of a grave. She has a terribly hard time to maneuver her heavy voice. The slightest speeding up of tempi gives her trouble to catch up with the conductor. The duet when she returns for her secret date with Des Grieux has nothing of the demure charm it would require, but is just heavy and ordinary. Impulsive, but unimaginative phrasing. Manon Lescaut is not an easy opera to perform. Neither for the conductor, nor for the singers; full of tempo changes and pitfalls if you are not well prepared, attentive and musically disciplined. And Netrebko falls into almost all of them. Her conversation with Lescaut in the beginning of act 2 is full of late entries and bad timing. Where exactness is required she is just approximative. "In quelle trine morbide" is long-winded and boring. No drive, no elasticity. A shapeless wave of sound getting slower and slower with some blurted out top notes. Note values? Phrasing? We won´t even start to speak about her diction… In "L´ora tirsi" she strives for a certain lightness, but her singing is heavy-handed and she has a hard time to catching up with the conductor. Out of a sweet, little minuet she makes a full blooded drama queen battle cry. How ridiculous this sounds and how little feeling for the style of the music she shows. But why strive for exactness and clean phrasing when one single high note at the end of it gets you the applause…?? "Sola, perduta, abbandonata" is terribly effortful, slow, heavy wave of sound, belted high notes and intonation problems. Listen to Petrella what one can do with this aria and still maintain control and use his brains. By far the worst singing I have heard from her so far. How one wishes for Toscanini´s imaginative whip to speed her up every now and then…
Marcello Giordani has the feeling for the urge of the music and really tries hard to sing legato and find a vocal line, but the voice mostly does not quite follow his intentions. The passaggio area sounds dreadfully squeezed and even when you think – "this is it: now he´s going to crack" (as in "Pazzo son") he does manage somehow, but the result is most unpleasant. The top notes are sung with full force and have a certain fullness, but there are a lot of stiff, throaty and ugly notes, too. The whole third act is just a pulp of wild shouting, squeezing and sobbing. No matter whether it´s the conversation Des Grieux/Lescaut or Des Grieux/Manon – it all sounds the same, it all passes more or less unnoticed: no nuance, no structure, no plan, really – just full force singing.
Wolfgang Bankl as Ravoir and the commandanteat least tries to add some accenti and works on the text. David Pershall as Lescaut was quite ok.
Marco Armiliato fully deserved the one or two boos before the beginning of act 3. Conducted like this, Puccini really sounds like a cheap third rate composer. Where structure, contours, and clearness of sound is needed in order to maintain the score´s freshness, drive and spontaneity, Armiliato is just ordinary, heavy and full of Puccini clichés. The tricky passages with constant changes of tempi – the opening scene, for example – has him trying hard to get the chorus on track. He spends much time slowing down and waiting for his Manon where she needs time to handle her voice.
Puccini sung and played like this, only with instinct and impulsiveness with no control and without firm reins, sounds cheap, uninspiring and – boring.