I have to confess, I hesitated when Donzelli asked me to do a series on the "canzone napoletana" once a week throughout the remaining July and August. Although these songs have always been a passion of mine I felt a bit uneasy: would an Austrian writing in English be the right person to write about the essence of these Neapolitan folk songs? I decided that chosing what I consider the most authentic and illuminating recordings I would mainly let speak them for themselves adding just a few personal impressions and illuminating their history: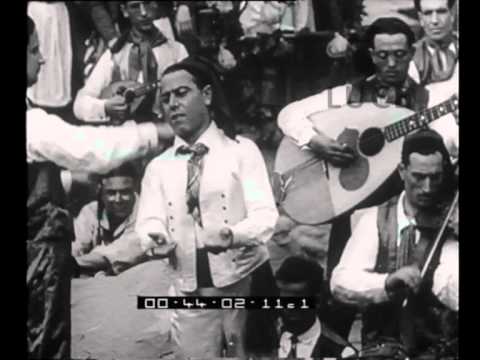 History
One of the most important factors in the creation and popularity of these songs was the "Festa di Piedigrotta". For many centuries the chapel in the caves of Posillipo (where the church Madonna di Piedigrotta was later built) was the place that ceremonies were held annually in the night before September 8th, the feast of the Nativity of Mary. This date was lent additional significance by the fact that on September 8th in 1528 the French fleet was forced to capitulate after attacking Naples. But the Neapolitan canzone, as we know it today, was born in the mid-19th century.
With the song "Ti voglio bene assaje" the great story of the "canzoni napoletane" had its beginning. The poem was written by the Neapolitan poet – an optician by profession – Roberto Sacco. The music was attributed for a long time to Gaetano Donizetti, who greatly admired Neapolitan folk music. Instead it seems certified that the piece was set to music by Sacco´s friend, Filippo Campanella. On the night of September 1st 1835 it was the first song ever to be presented at the Piedigrotta feast and instantly was enormously successful. Within few months more than 180.000 "copielle" of the song had been sold. It was sung and whistled everywhere in Naples. For several Piedigrotta celebrations to come it became somewhat of the "official Piedigrotta-hymn".
Ever since, new songs have been composed each year for the festa and presented in a kind of competition of famous singers (Fernando De Lucia was one of the most famous singers and had many songs dedicated to him.) Among the most famous prize winning songs were: "Santa Lucia" (1850), "Funiculì funiculà" (1880), "Era de Maggio" (1885), "Marechiare" (1886), "´O marenariello" (1893), ""O sole mio" (1898), "Torna a Surriento" (1902), "Core ´ngrato" (1911) or "Dicitencello vuje" (1930). The barrel organ players played the songs in the streets and made them popular. The instruments were pulled through the city and people gathered around the "venditori di musica" to listen to the new tunes and buy copies of the sheet music (copielle). Later they were largely replaced by the Café Chantants singers, radio and recordings. Music publishers soon began to smell big money and began organising large singing competitions in theatres. Many Neapolitan poets – among them Salvatore di Giacomo, Roberto Bracco, Giovanni Capurro, Libero Bovio or Giambattista De Curtis devoted themselves to the new genre and supplied the lyrics for some of the most famous songs. Many composers dedicated their songs to famous singers hoping they would sing them as encores in their concerts or record them. Many of the Neapolitan songs became world-famous because they were taken abroad by emigrantsfrom Naples and southern Italy roughly between 1880 and 1920. The music was also popularized abroad by performers such as Enrico Caruso, who took to singing the popular music of his native city as encores in his concerts throughout the United States. Also, an important part of his recorded legacy – as well as De Lucia´s – is devoted to the "canzone napoletana".
How to sing them
"I love you so much and you don´t think of me." it says in the "ritornello" of "Te voglio bene assaje" by Bracco / Campanella: «Te voglio bene assaje e tu non pienze a me» Rejected love, separation, courtship and homesickness are the most frequent themes these songs are dealing with. Of course, love and passion come oozing out of every single pore of these songs. – Yet, I strongly feel that the more they are sung with restraint and "understatement", the stronger and more convincing they come across. "La canzone napoletana va sussurrata e non urlata.", Riccardo Muti once said (Neapolitan songs are to be whispered and not screamed.)Ever since as a child when my father has played the first recordings of Neapolitan songs to me I have come to love them. Starting off with the Di Stefano, Del Monaco, Corelli and Pavarotti I was first impressed by their passion and the outpouring vocal splendour. When I first heard "´o marenariello" by Tito Schipa, though, I instantly knew: this is the truth. Depending of course on the individual title, I strongly feel that the "big" sound by large orchestras and big blown up voices singing them like operatic arias simply do not do justice to these small gems. They do not need a "Hollywood Dolby Surround Sound". They do not need mannerisms and vocal "showing off". They are neither operatic arias nor a "canzone di salotto" or a "Kunstlied". – They require most of all what is most difficult: simplicity and unaffectedness. They need intimacy and a "down to earth" naturalness without sounding vulgar and – as far as my own taste is concerned – understatement rather than assumed extroversion. Not for nothing probably the most authentic and convincing recordings are not those of singers with big splendid voices, who bathe in their own sound, but rather by "voci modeste" with great diction, polished phrasing and a distinct feeling for rhythm.
Let´s start off with a singer, who still has his roots in Napoli´s café chantants. Born in Napoli in 1869 Gennaro Pasquariello started to work for as a tailor in his father´s shop when he was not yet eleven years old. At thirteen he started to sing, at nineteen he founded his own little entertainment troupe and had small engagements until in 1902 at the age of thirty two he left for Milan with no more than his little suitcase. Although the owner of the "Variète' familiare" had doubts about both his looks and his voice, which at the time was not more than a thread, she offered him a contract. But already Pasquariello´s first appearances there, proved her doubts wrong. The guests were delighted not so much by his voice, but by the WAY HE SANG. There was an almost religious silence until he had ended. He seduced his audience rather than conquer it. Ever since, his singing held his listeners under a magnetic spell. From then on he appeared all around Europe becoming one of the best paid singers in his genre. Everybody wanted to hear him (Puccini and Toscanini among many others) and he appeared regularly at the festa di Piedigrotta where he introduced new songs. (He made "Ó surdato innamorato" famous in 1915 among many others). In 1950 he made his last appearance at the Piedigrotta Festival and retired to his home in Naples in the Via dei Mille. He seems to have lost much of his fortune or all of it (although there was much talk about his stinginess and his parsimony – some even suggested that he had "invented" his misery to have funds collected for him…) during the after-War years and seems to have died almost in misery on January 26th 1959.
"Quanno tramonta 'o sole" was composed in 1911 by the famous Salvatore Gambardella, who died two years later at the age of only fourty years. (lyrics: Ferdinando Russo). It instantly held me spellbound by with charme of the melody and Pasquariello´s simple, but compelling and entrancing interpretation.
Viene addu me! Cuntèntame stu core
che, 'a tantu tiempo, penza, aspetta e spera…
Lèvame 'a pietto 'sta fattura nera,
pecchè te chiammo cu nu vero ammore!
Te veco, cu na rosa
'int"e capille,
vicino a me…
Vicino a me…
Mme pare 'e darte vase a mille a mille,
sempe sunnanno 'e te!
Sempe sunnanno 'e te…
Siéntelo, oje bella, 'o suono 'e sti pparole
Viene addu me, quanno tramonta 'o sole!
Quanno tramonta 'o sole, e tutte cosa,
jènne pe' s'addurmí dint"a nuttata,
piglia 'o culore 'e na viola 'nfosa…
tanno te penzo sora e 'nnammurata!
Tanno te sento mia
tutta felice,
senza parlá…
Senza parlá!
Cu ll'uocchie dint'a ll'uocchie e po' mme dice:
"Quanta felicitá…
Quanta felicitá!…"
Siéntelo, oje bella, 'o suono 'e sti pparole!
Fatte vasá, quanno tramonta 'o sole!
Come to me. Make my heart happy
that long since thinks of you, waits and hopes!
Because I call you with true love!
I see you with a rose in your hair at my side.
I want to kiss you a hundred times.
Always thinking of you!
Listen, my pretty one, to the sound of these words!
Come to me – when the sun goes down.
When the sun goes down and everything goes to sleep
then I think of how you are alone and in love with me.
I feel that all happy you will be mine at last.
Without words, without words…
We will look into each other´s eyes you will tell me: "How much happiness!"
Listen, my pretty one, to the sound of these words!
Let me kiss you – when the sun goes down!