Bogdan Roščić will succeed State Opera director, Dominique Meyer, starting with Sept. 1st 2020.
Born in Belgrad in 1964 his family came to Austria in 1974. After he had finished his studies of philosophy and musicology he began workung for a newspaper (in the department media and pop-music) and was in leading positionsbecame music of Austria´s leading pop-radio station Ö3 from 1993 to 2001. He then was Managing Director at Universal and in 2003 became Artistic director of Deutsche Gramophon in Hamburg, switching to DECCA London in 2006 and on to SONY Classical in 2009.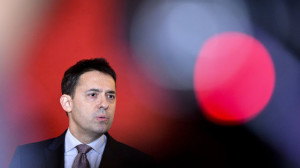 The press does not cease to hail his abilities as a networker in the classical music business and his leadership experience. – Leadership yes, but not anywhere an opera house.
In one of his first statements, Roščić cleverly presented his "operatic credo" under the title "Vorwärts zu Mahler", referring to Gustav Mahler, the legendary director/conductor/composer, who was the head of the Vienna Opera from 1897 to 1907. Bogdan Roščić summoned Mahler´s unwillingness to compromise in in matters of musical quality and his incessant fighting against routine and Schlamperei. With a side-glance towards the Met with a budget three times as high as that oft he WSTO – but where even an old battle horse as Cav/Pag does not fill more than one third of the house and where one officially seems to think about a winter break – he seems to be well aware that the public will not come and "grow" by its own: "The public must be approached and conquered anew each and every evening."
Ever faintly smiling Dominique Meyer seems to take his defeat with grace; "all the best wishes" etc. for his successor, of course, but whining in an interview "I was fired"… He seems to have felt pretty certain that he would be called for another term. – Especially given his repeated concessions to the Wiener Philharmoniker in his incessant search of support from their side and other "networks" which seemed important to him.
So while Bogdan Roščić is certainly a surprising and unconventional choice there are two good things about this change:
1. Dominique Meyer will be able to enjoy his love for baroque opera and chamber music and act out his lack of knowledge when it comes to judging singing voices elsewhere.
2. The Wiener Philharmoniker, ever so protective of their own interests and playing double games have been totally taken by surprise – seemingly having been presented a fait accompli only two hours in advance.
And while not every unconventional desicion is, of course, automatically a good one, there is a slight sign of hope for movement into the right direction:
One of Bogdan Roščić´s first actions will be the appointment of a GMD, a General Music Director, a post, as Dominique Meyer declared after Welser Möst left, "the Vienna opera can very well do without………"
Let´s hope, that for the Wiener Staatsoper will return to musical competence and "quality first" and that this change under the auspices of Gustav Mahler will have a more happy end than Visconti´s "Death in Venice"…