Lise Lindstrom | Turandot
Heinz Zednik | Altoum
Yusif Eyvazov | Kalaf
Anita Hartig | Liù
Dan Paul Dumitrescu | Timur
Paolo Rumetz | Mandarin
Gabriel Bermúdez | Ping
Carlos Osuna | Pang
Norbert Ernst | Pong
Gustavo Dudamel | Dirigent
Marco Arturo Marelli | Regie und Licht & Ausstattung
Dagmar Niefind | Kostüme
Silence as the curtain rises. Eyvazov/Giacomo Puccini is sitting at the piano struggling with the score of Turandot. He gets up, walks around restlessly, a music box starts to play a motive from Turandot. "Giacomo Puccini" becomes Calaf. Does this sound familiar? Marelli´s Turandot production from Graz in 2014 not only started exactly the same way, much of it – most of it, actually, even Turandot´s red dress which she is being stripped down to in the riddle scene is the same – comes from this production. Same concept – two productions, two fees….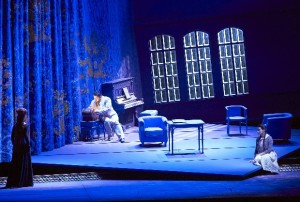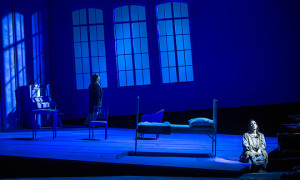 So Puccini turns into Calaf, the opera starts. And how….. My god – and I thought Maazel, back in 1983 was loud. So loud in fact that one continued to stare at the chandelier, fearing they would come down. But that was nothing compared to Dudamel. I have never heard so much "noise" at the opera. He either wanted to make sure everybody was listening to his first production at the Staatsoper or he does have no feeling for sound balance between singers and orchestra. It was so loud in fact, that during the last 5-10 minutes oft he opera I had to cover my ears (I really did. I am not joking!) because they were really hurting. Not just because of Dudamel´s conducting, but very much, too, because of Lise Lindstrom´s singing – especially in the high register.
Her voice sounds as if cut in two. The middle voice when well-dosed even has some fine moments. As soon as she starts to drive the voice or put some weight on it, it turns shrill and screechy. While her low notes are practically inexistant, her high notes are almost impossible to listen to. She has been singing Turandot for since at least 2005 as far as I have read. – And that has taken its toll. The voice is not big, not even resonant. It´s hard to tell whether the voice once had a certain cutting edge which still helps her to be heard over the orchestra or whether it is just the shrillness and screechy loudness she has developed from oversinging. She hits all the notes – but how.. After Anita Hartig´s/Liu´s death scene which was the highlight oft he performance, the final duet definitely was the low point. Tenor mostly inaudible, soprano screechy, orchestra full blast – almost unbearable.
Yusif Eyvazov as Calaf – to say he does not exactly have an appealing timbre is putting it all too mildly. It probably is the ugliest tenor voice I´ve heard in the last ten years. Bad, actually no vocal placement. Each note sounds differently, one has the impression, that the voice is constantly wandering, incredibly unsettled singing. The top is squeezy and forced, little squillo, though some notes have a certain ring, some haven´t – pretty much a game of chance… He is very much aiming at top notes holding them as long as possible. Some passages are nicely phrased, mostly in the middle range, some nice legato phrases. But a real musical characterization of the role, acting with the voice – zero. Very rough and unsettled singing.
Anita Hartig as Liù was the highlight of the evening – also getting the lion share of applause, though not as convincing vocally as one had hoped her to be. The voice has a good size, not big, but very focussed. She tends to drive the high range more than she would have to, given that it has a natural metallic edge, instead of just letting it flow. She has a way of driving the upper register a bit too much. Thus, the higher middle range sounds a bit tense, not totally free and she tends to oversing the top notes making them sound a bit hard and developing a tiny beat. She has no problem to make herself heard over the orchestra, The "perchè un dì nella reggia, m´hai sorrIIIIIso" was fine, but the final note of "Signore, ascolta" and also "per non vEEEderlo più" in "Tu che di gel sei cinta" were driven too much. Either because she wanted to show off too much or because she did not want to take any risks. Too many fully blasted out high notes to impress the public. Less would be more. More intensity, less volume.
The Ping/Pang/Pong trio was ok – Norbert Ernst succeeding Heinz Zednik as Pong, while Zednik´s singing as the Emperor Altoum should rather be covered by a cloak of silence…
Both Dudamel and Lise Lindstrom were booed during the solo curtains at the premiere and at the second performance, too. Before the second act started, someone even even shouted alluding to Dudamel conducting without a score: "Take the score, maybe then it sounds better!"
Referring to the booing of Dudamel and Lindstrom during the curtain calls at the premiere, Meyer declared at the after show in front of a running camera:
"You know, among 2.300 persons in the audience, it will be difficult NOT to also find some idiots…"
"idiots…" Meyer is losing his contenance. Renewal of his contract is approaching and he needs to come up with some remarkable productions – and this Turandot-premiere had nothing remarkable about it.