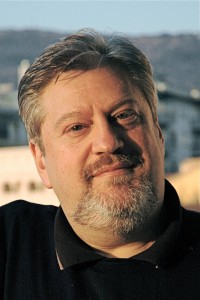 An abridged interview by Renate Wagner taken from the "Der Neue Merker" website. Keenlyside´s Rigoletto-cover, Paolo Rúmetz tries to get away from his buffo image, tells some facts about how he was prepared as a cover for SK and recommends himself to Dominique Meyer for big Verdi-roles.
Mr. Rúmetz, at the Wiener Staatsoper you have been heard in roles like Dulcamara, Don Magnifico, Bartolo or the sagrestano in Tosca. Mostly buffo-roles. How come you have been cast as cover for a role like Rigoletto?
Because I really am no buffo! Having worked as a freelancer all my life, I was glad to get a two-year ensemble contract from the Wiener Staatsoper. To come to Vienna was a big honour – especially since the situation at Italian opera houses is devastating. I was aware, that in Vienna I would be engaged for a lot of Donizetti and Rossini, but I was strongly hoping, that I would be able to show that I am a real Verdi baritone. I have already sung Iago, Renato, Luna, Amonasro, Germont and Boccanegra elsewhere.
But not Rigoletto?
No. My Rigoletto debut would have been due in summer 2015 at Klosterneuburg (a small outdoor festival near Vienna). So then came the offer from the Staatsoper to be SK´s cover for the premiere. And I studied the role, but I never would have thought I would really come to sing it – least in the middle of the premiere…  It was my very first time as Rigoletto on the stage. After the Hauptprobe (Maestro Chung was very satisfied with me), I had a five-hours scenic rehearsal with Pierre Audi´s assistant. From the beginning I was aware that the concept which was tailor-made for SK would not work for me. – We are very different – starting with our stage appearance…. You see, I am not exactly the well-trained bare breast type… Also, I see Rigoletto more as the loving father rather than a mixture of evil tyrant and Wozzeck. So I tried my best.
You sang the general rehearsal, too. Were you in the house at the beginning of the premiere?
No. SK had reported himself ready to sing. I was listening to the radio broadcast at home (not far from the opera house, near the Naschmarkt) when the phone rang at "pianigi, pianigi". It seems they were aware, that he would not be able to continue. I arrived just in time to see Keenlyside leave all alone. Everything was chaotic, there was no time to tell him how sorry I was for him and  for was for what had happened.
You sang the rest of the premiere and all consecutive performances, except the last one on January 2nd?
Yes, I am still ill in fact. (He has to cancel Bartolo on January 8 and 12) I must say, that the public has received me warmly and now I am being perceived a bit in a different way maybe. I hope, I will be seen more as a Verdi baritone now. And of course, I hope, director Meyer will think of me when he is casting his next Boccanegra, Germont or Amonasro. I like to sing Falstaff, too. I actually have studied all roles which fit me. I have no special preference for bad guys like Macbeth or Iago. I rather feel closer to the father-type like Rigoletto, Germont oder Boccanegra.
I studied singing in Trieste, then sang there in the choir for five years and studied again with tenor Renato Guelfi in Rome and Josef Metternich in Munich. I made my debut in 1988 in my hometown at the Teatro Verdi as a servant in "Ariadne auf Naxos". I owe much to Nello Santi, whom I met in 1999 and who guided me towards the Verdi-roles. We did two concert performances of Boccanegras together in Tokyo in 2013.
This interview stirred some speculations about what actually caused Keenlyside to loose his voice since no official comment was issued. Did he hurt himself when he rolled down the stairs? Was it a sudden vocal crisis? Was he still ill, but did not want to let the responsibles know? Or did they know, but agreed not to announce him indisposed? If so, why was his cover not in the house at the beginning of the performance? Is it wise to use a singer as a cover for a role of this size at a premiere, who hitherto has sung in  Vienna roles like Dulcamara or Grenvil? Is it sufficient for a cover of a premiere to have just the Hauptprobe with the conductor and just a five hours coaching with not even the stage director himself (whom he had never seen before). – And even if such a procedure is "normal" practice – is this a good preparation KNOWING that the principal singer has been ill during the final phase of the rehearsals? Rumetz also took over the two consecutive performances and had to struggle through the performance of January 30th. Then he, too, had to cancel the last performance on January 2nd, which was taken over by George Petean. True, everything that possibly can go wrong DID go wrong in this premiere series. Including the differences beforehand regarding Gilda between Welser-Möst (Erin Morley) and Meyer (Valentina Nafornità). Welser-Möst´s walkout on The State Opera and Rigoletto. Keenlyside, who found it impossible to resist the temptation of a Macbeth or a Rigoletto, although these roles are two sizes large for him in a house of this size – even when if he was in good health and in top shape. A mere "alibi"-cover, who – so it might have been speculated – would not actually be needed (at least not for ALL performances…). Finally, both first and second cast of the title role becoming ill…
The press office oft he Wiener Staatsoper has finally issued an official statement:
"At first, let me explain to you our rules for cancellations and "covers: when a singer sees in danger the upcoming performance, he has to cancel until 11 a.m. on the day of the performance. The respective covers have to report where and how they can be reached on the day of the performance and have to be "at hand" until 6:30 p.m. in order tob e able to step in also on short notice. Regarding this Rigletto premiere we declare, that there was no doubt, that SK would be able to sing this premiere without any limitations. He wrote to both director Meyer and our manager that he was fine and would be able to sing. Director Meyer also went to see him before the performance. This explains, why there was no cover in the house at the night oft he premiere. During the second act SK suddenly lost his voice and could not go on. Everybody was convinced, that it had to do with the illness, which had forced him to cancel both Haupt- and general-rehearsal. – Thus director Meyer made a statement, that he might not have completely recovered. Right after the performance had been interrupted Keenlyside was taken by Dr. Kürsten (Vienna´s foremost singer´s doctor) to his praxis. There, it was discovered, that his sudden indisposition had nothing to do with his former illness, but that it was another "acute vocal crisis" (??), which had appeared in the course of the performance. Please be assured, that Keenlyside was given all help and assistance possible. Dir. Meyer was behind the stage with him when he could not go on and throughout most oft he interval. The voice specialist was there and our manager and various members of the ensemble were in contact with him throughout the following days. Paolo Rúmetz was prepared for the role by our Korrepetiteur when rehearsals started. Rúmetz was involved in rehearsals from the beginning – he also was present at the "Konzeptionsprobe" and the first stage rehearsals with conductor and stage director – although the main focus was naturally on the first cast. And he had some cover-rehearsals with the assistant stage director. His stepping in for SK came as a surprise to all of us. Everybody, however, reacted highly professional. Paolo Rumetz arrived, his costume and make-up were ready, he warmed up a little and the premiere went on without much delay.
André Comploi, Pressestelle der Wiener Staatsoper
So much ado about nothing? I suppose, that once the damage was done, things worked out quite well – considered the circumstances. But let´s be honest: neither Keenlyside nor Rumetz are worthy Rigolettos. Keenlyside is overloading his voice and his health with roles like this (as Vienna also could hear in Macbeth). If one continues to always push one´s limit, this constant pushing will inevitably take its toll. Stick to roles which suit you vocally and you will save a lot of nerves and be able to master them even when not in ideal vocal health. Running around on stage half naked when you are not in perfect health does not help… Keenlyside´s voice sounded thick and heavy from the very beginning. Apart from forcing to get a bit vocal fullness for Rigoletto, you could clearly hear (well, those responsible obviously couldn´t…) that he was NOT in the best shape. Yet – it is difficult to say where exactly he was a victim of the excessive demands of the role and where his voice and his health were really failing him. When he finally lost his voice there were some audible buhs from the gallery, which were later heavily discussed. How could one buh a singer who was in obvious vocal difficulty? I suppose no one would have booed had he really filled out the demands of the role and had he given a good and convincing vocal performance from the beginning on. – If he had suddenly lost his voice  during a GREAT performance, NO ONE would have booed. But as it was – he was heavily overstrained by a role which simply was too big for him and not being well either. And we still do not know WHAT exactly forced him to leave the stage. Some misterious and sudden vocal crisis? That would imply, that he as fine before, which he wasn´t. Fact is, that neither does the role suit him, nor was he in good vocal shape. And, with all due respect to such a stunt: I suppose we all agree, that Rumetz has done a decent job under these circumstances. – He was correct and sang the notes. But that´s about it. He might have more affinity and natural feeling for Verdi than other baritones around today, but the voice and the singer are not for the size and demands of a role like Rigoletto – not even in our days…