UN BALLO IN MASCHERA   Covent Garden January 2015  BBC 3 broadcast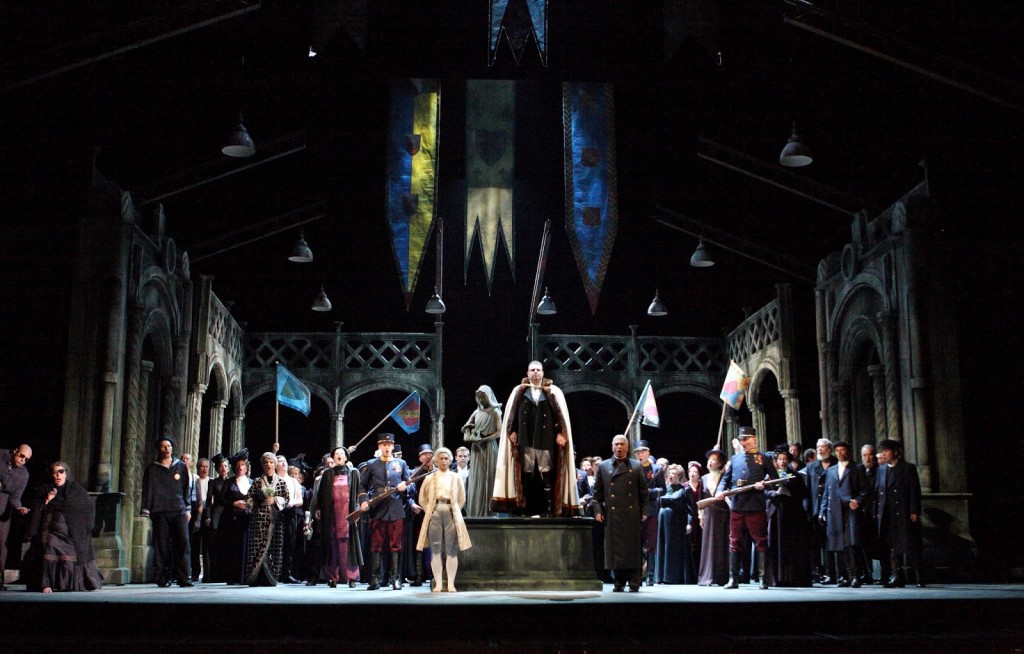 Riccardo: Joseph Calleja.
Amelia: Liudmyla Monastyrska.
Renato: Dmitri Hvorostovsky.
Ulrica: Marianne Cornetti.
Oscar: Serena Gamberoni.
Samuel: Anatoli Sivko.
Tom: James Platt.
Silvano: Samuel Dale Johnson.
Royal Opera House Chorus / Royal Opera House Orchestra
Conductor: Daniel Oren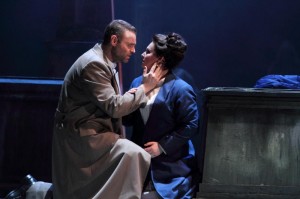 The main – or rather the only – interesting thing in this broadcast was Joseph Calleja´s debut as Riccardo/Gustavo. The debut originally was scheduled at the Bavarian State Opera last year – but he cancelled. The voice (especially the middle range) has gained in colour and expansiveness during the past two years, though I would not say it gained much "body" or real fullness. It has actually lost some roundness and some of its compactness and "concentration". Some scratchiness and "impureness" has intruded into the sound. His main forces were and still are an easy upper middle range and an effortless top. The top notes are there, they are steady and reliable and carry well, but they have no natural cutting edge. He keeps the passaggio light and slender. – Sometimes too slender: he might well open just a little bit more on the Os and Us. One also hears, that his is a voice which has kept well its elasticity and flexibility,  because he is not shouting and pushing all the time. The Ulrica scene finds him at his best. "Di tu se fedele" and "È scherzo" are his best in this performance. But, yes – he is a lightweight Riccardo. He has a certain vocal verve, where he does not have to sing against the orchestra and a fine irony, but he leaves no personal imprint whatsoever on the role. Phrases like "Teco io sto" / "ti calma" / "Di che temi?", in fact the whole begin of the whole duet are delivered with no impact whatsoever. Then again, he does take weight off the voice by singing with more nuance and trying to add more importance to musical details and little phrases ("promettimi, giura, che tu l´addurrai"). Which works well in the Ulrica scene, (and which, together with frequent breathing,  helped him through the big love duet), but which was far from sufficient for the big aria in the last act. He studied the role well – one can hear that – and musically he was by far the secure and reliable singer among the principals. Calleja never was a singer who really explored the emotional depth of a character – at least it did not show in his singing. But he could have easily added much more depth to his interpretations simply by having more fun as the careless ruler in the first act in order to make the sacrifice later more plausible. The big aria clearly showed his vocal limitations: though he tried to add nuance to the recitative (beautiful "e taccia il core") it lacked vocal authority and incisive diction. The change of mood: "esito ancor" and "ah l´ho segnato" passed by rather unnoticed. Though he sang and did not shout and struggle with the tessitura like most Riccardos today, he sounded scratchy, nervous, lightweight and unsteady in the aria. The voice at this point is simply too lyric with too little body and cutting edge for those big phrases like "chiuso ho la tua memoria nell´intimo del cor" or "come se fosse l´ultima ora del nostro amor" and it starts to sound bleaty when he drives it too much. It´s one thing to sing the aria in concert and another to sing the whole opera before you reach it. Here, he was a considerable delusion. Maybe he had a dry throat in addition. As in other performances and broadcasts one also can often hear him clearing his nose – However, he  does not have the required drive and punch for those big arches. (Listen to Peerce´s legato, how he builds up the tension in those big arches.) "Si rivederti Amelia" found him in difficulty on "l´animAA d´amor mi brillerà". He sang the death-scene well but without transmitting great commotion. Just not enough intensive phrasing and imaginative power as an interpreter and singer.
All Liudmila Monastyrska did is to let her impressive voice flow. Some critic called it "gorgeous noise". Poor diction, hardly any conconants,  little nuance,  no emotional impact. It´s a voice of considerable size and one often hast he impression that she does not really know how to handle it. Some nice soft phrases ("su quel funereo letto"), but the full voiced higher range tends to sound strenuous and shrill, the high notes mostly squeezed – especially in the second half. "Ecco l´orrido campo" is screamed in the beginning and at the end. The low notes sound terrible and the upper register starts to sound wobbly, the top notes shrill and out of focus. The tempo of "Morro ma prima in grazia" is in slow motion – senselessly drawn out by Daniel Oren since his soprano cannot keep up the vocal tension. In the ensemble scenes – especially  "Odi tu come fremono" was terribly bumpy- she tends to be little flexible and drag behind. There audibly is plenty of quality in Liudmyla Monarstyrska's voice, but not so in her singing or her interpretation of Amelia. Vera Schwarz probably has not even half the voice of Monastyrska. But while the latter is just shaky, wobbly and lachrymose, Schwarz sings – and how! She is able to project feeeling and sensivity and depth of sentiment.
"Dmitri Hvorostovsky is on autopilot as Renato" © The Guardian. Hvorostovsky was much worse than usually. Not only singing wth little taste and great inconsistency, but more often than not getting in front of the beat dragging behind and even putting them at risk… His terrible entry in the gallows scene and his messing up "Odi tu come fremono" and "Ah! Di che fulgor, che musiche" at the end of scene 1 in act 3. He really sang like a – pardon – pig. And he turns the little duettino with Oscar before "the party begins" into a chaos. "Alla vita che t´arride" is rough and hoarse, "Eri tu" is heavily exaggerated, but then suddenly he has some better phrases. He puts a lot of effort and good will into "O dolcezze perdute". Then again, he ruins the whole last scene, unforeseeably hanging on to notes or cutting them short, not in time with the conductor.
Marianne Cornetti as Ulrica was mainly rough and wobbly
I find it absolutely incomprehensible, how Serena Gamberoni´s Oscar got such good reviews. "Volta la terrea" sunded heavy and stiff. The top notes were forced. No effortlessness, no humour, no verve.  She completely lacks the sparkle and high-spiritedness for Oscar's music. In "Ah! Di che fulgor, che musiche" she lacked flexibility and dragged behind. The whole quintett was badly rehearsed and messy. I would even go as far as to call her "Saper vorreste" a disgrace.
Noticeable good performances of Anatoli Sivko and James Platt as Samuel and Tom.
The musical level of this Ballo was far from what it could/should be at a premiere in a major opera house. Late entries, a lot of imprecision between choir and orchestra, singers dragging the tempo. Daniel Oren at the podium is inconsistent. Better in the preludes, much less so in the ensemble scenes and where the choir is involved. He sounds as if he had no particular for Ballo: some passages are good, others rushed, some messy, some long drawn (the "urn scene"!!) and some heavy and laboured. – especially the gaiety of the first scene and the opening of the last one.